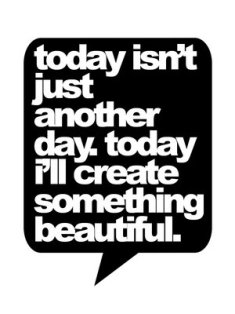 Creative thinking inspires ideas. Ideas inspire change. ~ Barbara Januszkiewicz
I believe the definition of inspiration is when an idea takes hold of you, and you feel compelled to do it. Not only that, you WANT to do it.
Deep in your gut, you know that chasing down that inspiration will take you to where you have intended to be all along.
Do you feel inspired at the thought of your weight loss goals?
Over the past couple of weeks, I have shared with you the importance of visualizing your goals – to actually envision results as if they have already happened.
Inspiration is a little bit different than visualizing. Inspiration is defined as stimulation or arousal of the mind, feelings, etc., to a special or unusual activity or creativity.
By thinking about what inspires us, we keep our minds aroused so we can continue to move toward the ultimate result we want.
Sometimes, finding inspiration can be difficult and we must get creative with our thoughts. We have lived our lives on auto-pilot for a very long time, and to be honest, we don't know how to think differently. But, if we truly INTEND to reach a number on the scale, if we fully EXPECT the results to meet with success, then we need to INSPIRE ourselves daily to reach those goals.
What is the first thing that you think of when you wake up in the morning? Are you excited, or do you begin your day with dread? What you think in those first moments of the day is super important to keeping your focus. Your first thoughts of the day are a foundation to how you will approach the rest of the day.
A while back, I was challenged by an "accountability buddy" to spend the first 30 to 45 minutes of my morning — the first moments after I am awake, while I am drowsy, and before my coffee (OH HEAVEN FORBID!!!) — working on something called "morning pages." Morning Pages are the brain child of Julia Cameron, the author of the book The Artist's Way. They are random writings done in long hand on three full pieces of paper. Morning Pages are a time to free write with no rhyme or reason; nothing you write is wrong or right; it just is.
I have to admit that I still stumble on this request. Yet, in spite of the challenge, I always pick myself back up and do them. I have begun to notice that when I do spend time writing in the morning, the focus of my day changes. I am not burdened with the feelings of overwhelm about getting things done.
I believe my Morning Pages time helps me to focus on things that inspire me toward success.
What are some things you can do to start living an inspired life, to start getting in touch with what inspires you to success?
Allow Yourself the Possibility – You may weigh over 250 pounds and have a long way to go to make your goal of 120 pounds; however, don't think of the long term. Instead, embrace the possibility of your goal becoming real. Go out and purchase a goal pair of size 6 pants to work toward. Look at them every day to keep you inspired when things get a little rough.
Take Time – Getting to a scale number or size goal is an incredible undertaking. Take the necessary time to make plans, schedule events, and fit your life around the protocol (or the protocol around your life). Most of all, take a little time each day to think about what your goal will look like, what it will FEEL like, what you will be doing, where you will be going.
Live a Life of Adventure – Imagine things that will become possible for you to do each time you drop 10 unwanted pounds. Make a goal for yourself at each 10-pound milestone. Then go DO IT! Step outside of your comfort zone and challenge yourself to something new. This will awaken parts of yourself that have been dormant. Add excitement and enthusiasm to your life.
Celebrate All that is YOU! – Give yourself lots of hugs and remember to celebrate each accomplishment along the way. When you acknowledge all the amazing things that are already in your life, you will be amazed how many wonderful new things you can find in a day. Make sure you spend some time at night marking down your accomplishments from the day. You might consider celebrating your wins by lighting candles. Play with it; have fun.
Get Out of Your Own Way and Let Go – All too often, we simply get in our own ways. We all have the answers inside ourselves. We know the direction we are supposed to go, we just fail to listen. Learn to TRUST that voice inside of you. And when you hear the steps you need to take, let it go. You have set things in motion with your inspirational thoughts; now, just let the results blossom.
When you begin your day with thoughts of gratitude and inspiration, the path toward success will be set for you. All you will have to do is take that first step.